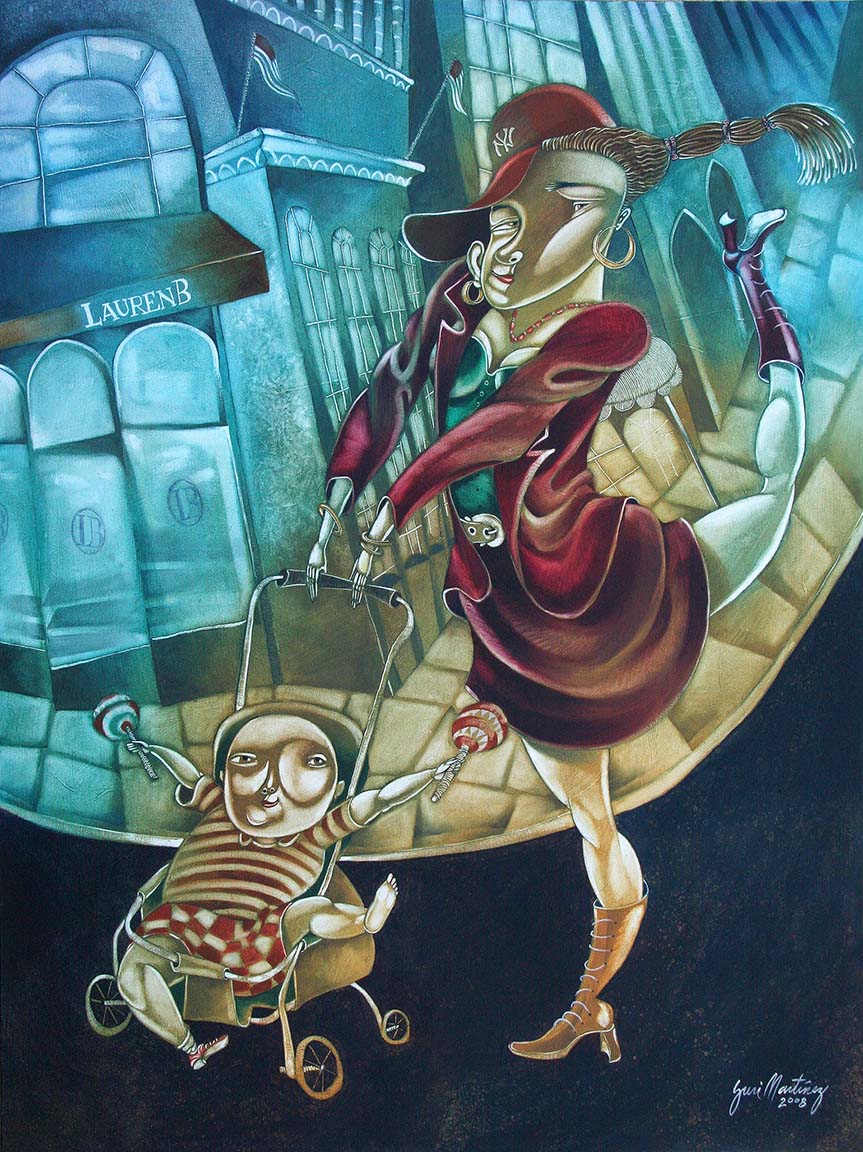 YURI MARTINEZ RAMOS
"REGGAETON ON 47TH STREET"
OIL ON CANVAS, SIGNED, TITLED
CUBAN-AMERICAN, DATED 2008
40 X 30 INCHES
---
"Reggaeton on 47th Street" is a homage to the Dominican women living in New York.
They work hard, they struggle to survive but they are able to keep their culture and happiness alive.
*Reggaeton, also known as reggaetón and reguetón, is a music style that originated in Puerto Rico during the mid-1990s.
It has evolved from dancehall and has been influenced by American hip hop, Latin American, and Caribbean music.
Yuri Martinez Ramos was born in Havana, Cuba on November 24, 1964.
He studied at the Elemental School of Plastic Arts from 1975 – 1979 and the National School of the Arts from 1979 – 1983.
Martinez' figurative paintings have been compared to Botero because of his satirical social commentary. His style, however, is uniquely his own with typically vibrant Latin colors and use of expressive magical realism. His paintings tell his story and the story of the Cuban dilemma.
Martinez was granted permission by the US Justice Department after much effort with Cuban authorities to come to the US with his family and pursue his career outside Cuba. He now lives and works in Texas.
Papillon Gallery had three successful one-man exhibitions for him in the gallery in Los Angeles, many collectors and celebrities purchased his paintings.
Martinez' works are in collections in Germany, Puerto Rico, Chile, Mexico, Panama, and the United States: Los Angeles, New York, Philadelphia, Miami, Chicago, and San Francisco.
He has displayed at the Museum of Latin American Art in Long Beach, CA.