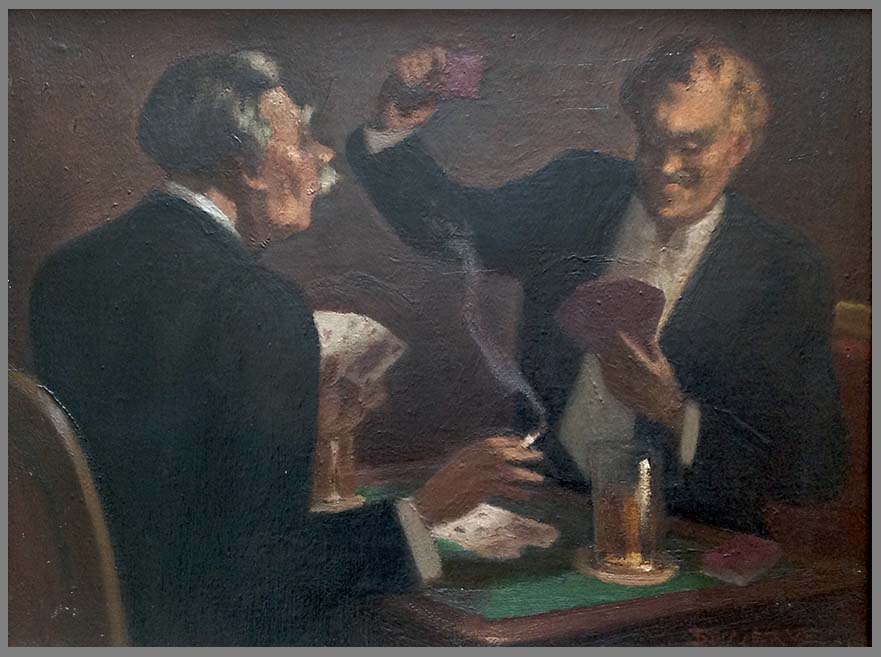 RENE BESSERVE
"CARD GAME"
OIL ON CANVAS, SIGNED
FRANCE, C.1930
10.5 X 13.5 INCHES
René-Pierre Louis Besserve
1883 – 1959
René Besserve was born in 1883 in Montbéliard. He was a student at the Naval Academy before choosing a career in the arts and enrolling at the Académie Julian and later, at l'École des Beaux-Arts in Montpellier.
Besserve exhibited frequently in Paris with the Salon d'Automne between the years 1920 and 1938, the Société Nationale des Beaux –Arts in 1922, the Salon des Artistes Indépendants between 1926 and 1938 and the Salon des Tuilleries between 1928 and 1939.
Working as an illustrator as well he collaborated with Juan Gris for the publication of Cri de Paris and contributed to several other publications such as Rire, Ruy-Blas and Fantasio.
Besserve is best known for his cubist and expressionistic stylizations of illustrations, posters, caricatures, nudes and landscapes.