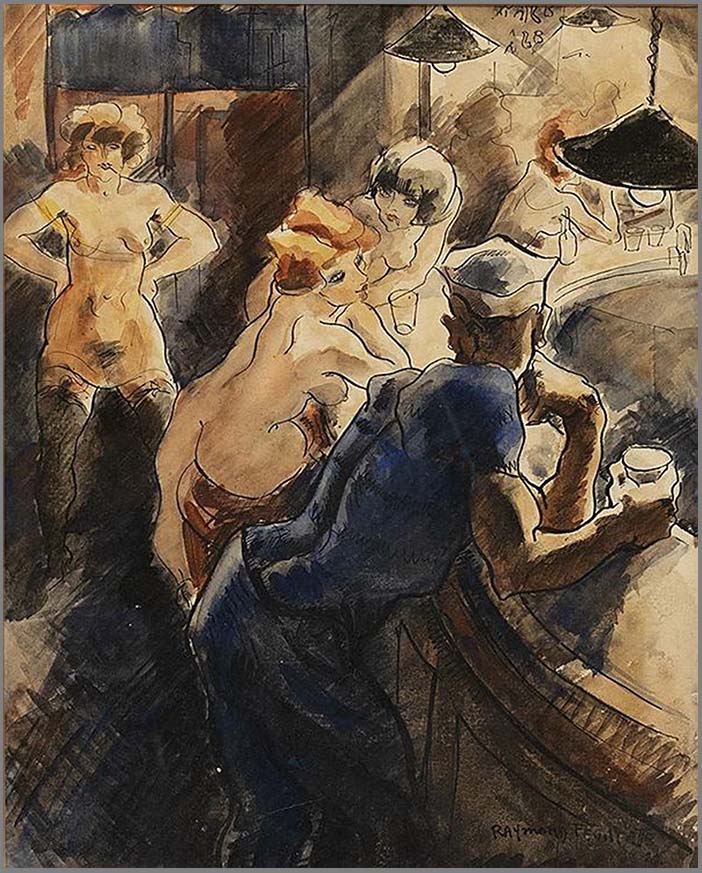 RAYMOND FEUILLATTE
"BAR DE MARINE"
WATERCOLOR, SIGNED
FRANCE, C.1930
12.25 X 9.75 INCHES
Raymond Feuillatte
1901-1971
Raymond Feuillatte was born in Neuilly-sur-Seine in 1901. He entered the l'École Nationale Supérieure des Beaux Arts et des Arts Décoratifs.
Beginning in 1919 he exhibited at the Salon des Indépendants, the Salon des Tuileries, and the Salon des Humoristes. From 1924 he exhibited at the Salon d'Automne and in 1927 the Salon de la Nationale de Beaux-Arts. He won the Prix de la Ville de Paris. He had many gallery exhibitions and also participated at the l'Exposition des Arts Décoratifs of 1925. He exhibited in several galleries in Paris and Nice.
In 1933 he took a voyage to North Africa, he visited Morocco, Tunisia, and Algeria. He was the official representative of French art at the 1936 Berlin Olympics.
Feuillatte was true Parisian, born on the outskirts of Paris; he died in that same town, Neuilly-sur-Seine. His paintings of the 1930's and early 1940's capture the flavor of the Paris Theater, bars and nightclubs. He used the techniques of the Postimpressionists and combined it with a sensibility and understanding of his subjects.