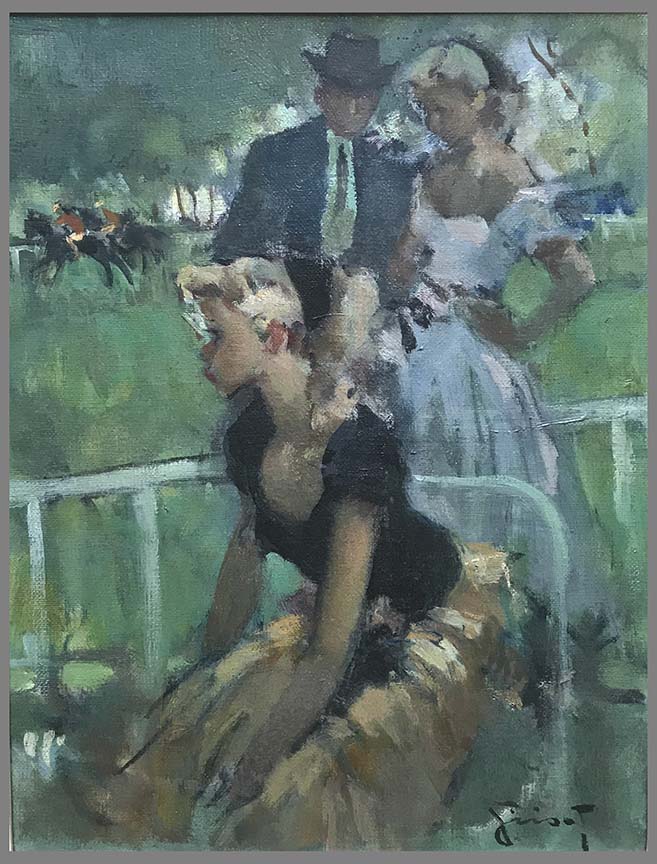 PIERRE GRISOT
"AUX COURSES"
OIL ON CANVAS, SIGNED, TITLED
FRENCH, C.1950
14 X 10.5 INCHES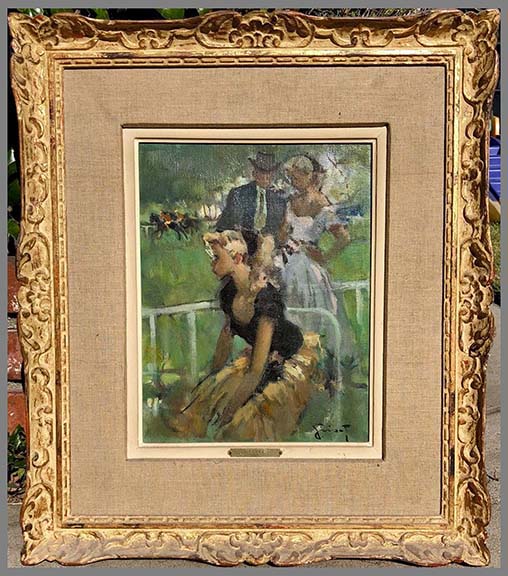 Pierre Grisot

1911 - 1995

Pierre Grisot was born in Paris; he was a French post-Impressionist artist who was a member of the Parisian School of art. Grisot painted in a light-hearted style that was all his own.

Whether he was painting fashionable ladies of the day, nudes or flowers, his work was always full of colour and life and was very different from the styles of his contemporary painters. His paintings now serve as vintage reminders of the style of the mid 20th Century. One of the most enduring features of Grisot's work was his brilliant use of color and his evocative renditions of the female visage.

At the suggestion of his family, he was trained as an engineer and even took a job as one in Besancon, France. However, Grisot secretly loved the arts and eventually enrolled himself at the Ecole des Arts Decoratifs in Paris.There he studied for one year before he began studies at the Ecole des Beaux Arts where he received a diploma as a drawing instructor.

Grisot initially taught painting and drawing but left to focus on his own art. He is also known for his hat and perfume advertisements for Christian Dior, and as a fashion illustrator for the journal 'L'Officiel de la Mode et de la Couture'.

His first official exhibition was in Paris in 1942, and later participated in exhibitions with Vlaminck, Raoul Dufy and Villon.

Grisot exhibited at the Salon d'Automne, the Salon International de Monaco, the Salon des Peintres Français and the Art College in San Francisco. He lived in Paris and on the Côte d'Azur.

Grisot travelled the world exhibiting his work in Germany, Belgium, Sweden and the United States.