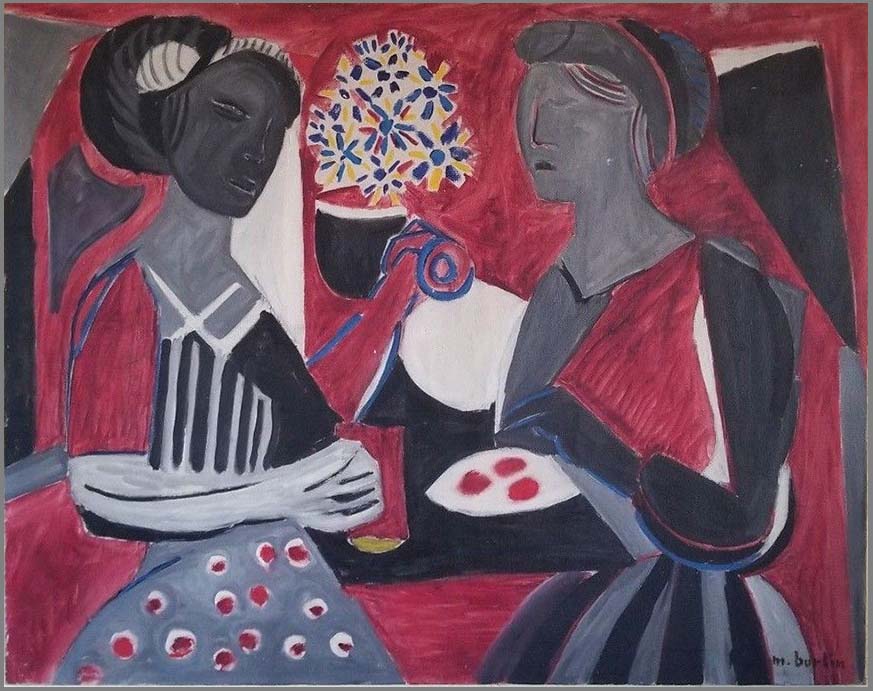 MARCEL BURTIN
"DUEX FEMMES"
OIL ON CANVAS, SIGNED
FRENCH, C.1940
28.5 X 36 INCHES

Marcel Burtin was born in Tunisia in 1902 and moved to Paris in 1911 with his parents. His first job was as a seaman, followed by a period working for the car company Renault.
However, in 1932 he met the artist Edouard Pignon (1904 – 1993), and following his advice began to draw and paint. From 1940 onwards he exhibited with the Groupe de la Jeune Peinture, whose members included Pierre Tal Coat (1905 – 1985), and Edouard Pignon, and during this period he met and befriended Picasso.
In 1945 he exhibited at the Salon des Indépendants and in 1947 at the Exposition des Peintres d'Aujourd'hui with Hans Hartung (1904 – 1989), François Desnoyer (1894 – 1972) and Francisco Bores (1898 – 1972). In 1956 he shared an exhibition in Mexico with Picasso and Fernand Léger.
Marcel Burtin's early paintings before the Second World War demonstrate a Cubist influence, drawing on the work of Georges Braque, Henri Matisse and Picasso. After the War he abandoned the Cubist influence in favour of powerful abstract paintings full of colour and vitality.Additional bio:

Marcel BURTIN was born in Tunisia in 1902. Arrived in France in 1911. He joined Renault as apprentice turner, then entered the Navy from 1919 to 1925. He reworked at the Renault factories as a technical agent while devoting his hours of leisure painting and drawing.
in 1932, he meets Edouard PIGNON and they both become friends. For several years he painted the night and worked during the day at the Telephone Equipment at Renault. He becomes the student of MATISSE and LEGER.
In 1940, he joins the group of the Young Painting in the company of BORES, GISCHIA, MANESSIER, THE MOAL, SIZE, TAL COAT and PICASSO encounter. In 1945, Marcel BURTIN participated in the collective exhibition "History of a painting" organized by André LHOTE at the Denise RENE gallery. In 1946, his works are exhibited at Galerie Vendôme. He frees himself from the spell of MATISSE and enters the state collections. In 1947, he is present on the walls of the MOOS gallery in Geneva as part of the exhibition "Young Peinters of the School of Paris". He also exhibits at Victor WADDINGTON Galleries with ROUAULT, BURNAN, MATISSE, PICASSO, PIGNON, DE STAEL. In Luxembourg, he participates in the Mostra "Le Nouvel Art Français". It is also in 1947 that the gallery of France in Paris and the APPOLO gallery in Brussels present his works. He becomes one of the contract painters of the Galerie de France.
Other exhibitions:
Particulars: Galerie DA SILVA in Marseille (1948), CAPUTO Gallery in Paris (1948), Maison de France in Berlin (1953), Galerie des Deux Rives in Cannes (1954), Galerie BERRI LARDY in Paris (1957), Galerie Camille RENAULT (1961 - 1963 - 1970)Collectives: VISCONTI Gallery in Paris, exhibition "Etape" (1945), Galerie des Saints Fathers in Paris (1946), "Paintings of today" in Nice (1947), City Hall of Boulogne "Union of Visual Arts" (1947), Franco-Swedish gallery "group of French painters" in Stockholm (1948), "Arte d'OGGI" in Florence (1948), State Museum "New French Painting" in Luxembourg (1949), ILLUM gallery , "DAYEZ and BURTIN" in Copenhagen (1949), exhibition of sacred art in Sao Paolo (1951), Palazzo del academia - International Biennial of Arte Marina in Genoa (1951), group exhibition with PIGNON, ESTEVE, MANESSIER ... in Mexico (1956), contemporary French painting in Yugoslavia (1957), Museum of Modern Art of the City of Paris "The Great and Young of Today" (1958), Gallery CHARPENTIER, School of Paris (1958), Gallery Arte Moderna in Caracas (1959).Creator of ceramics, he participated with many pieces at the international exhibition of ceramics Vallauris which takes place in the USA in 1953 in Washington, Birmingham, Chattanooga, Nashville, Toledo, Memphis, Akron, Manchester, Pittsburgh, Boston, Colorado, Louisville, Springs, Chicago, San Francisco, Los Angeles, Kansas City