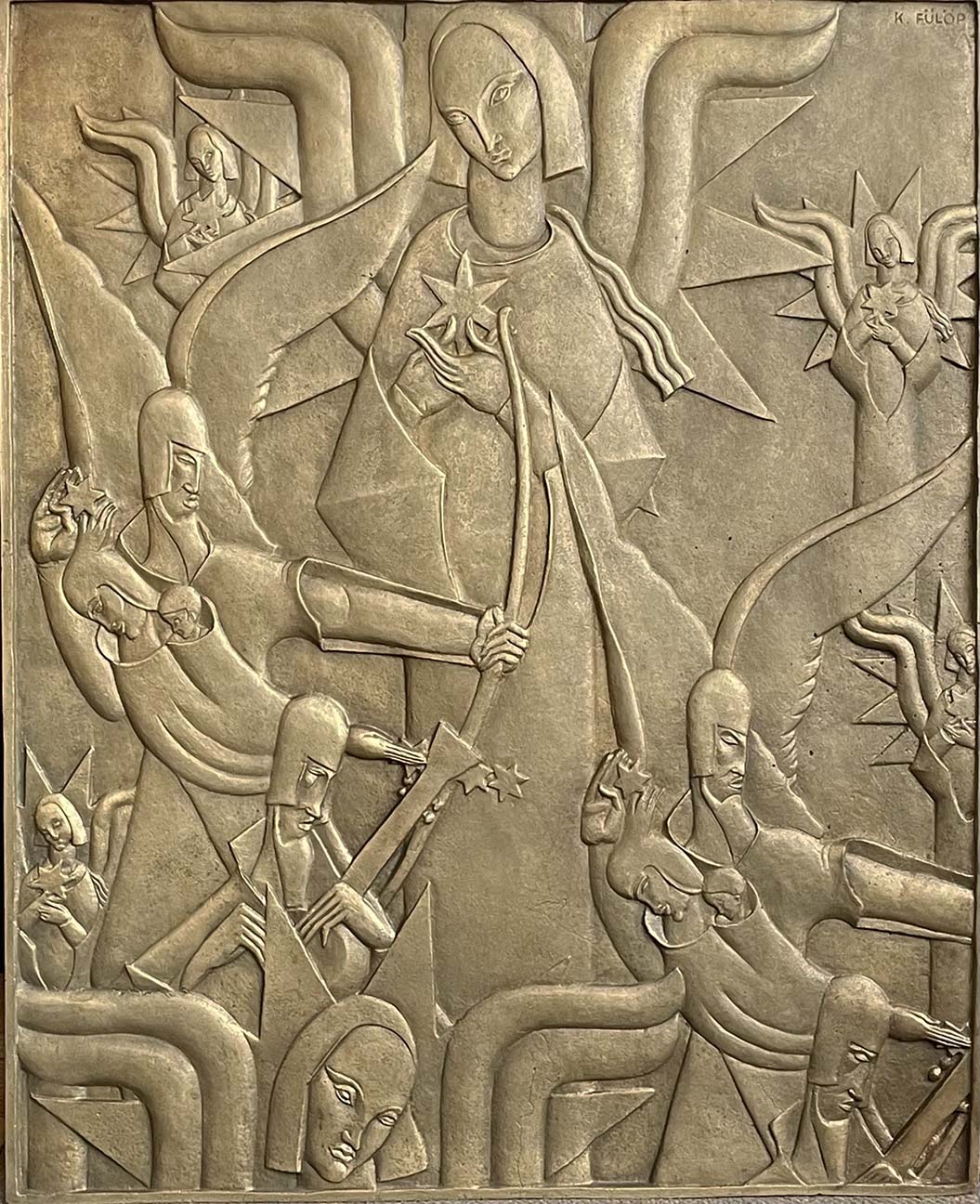 KAROLY FULOP
"SHOOTING STARS"
BRONZE, SIGNED
HUNGARIAN, WORKED IN LOS ANGELES, C.1930
27 X 23 INCHES
SOLD
Karoly Fulop was born in 1893 in Czabadka, Hungry. He was a painter, sculptor, and watercolorist.

Fulop studied art in Budapest, Munich, and Paris, but it was medieval art that most influenced his style. His paintings, watercolors and sculptures all have the decorative quality and detail typical of the Byzantines, a style that can still be seen today in many buildings in Budapest. Also evident in his work is the influence of the Vienna and Hungarian Secessionist movements. Fulop is an artist of unique and curious combinations; he incorporated his Catholic background with symbolist images, very modern yet in the tradition of past generations.

As Fulop traveled other influences appeared in his work, his subjects reflected his environment. In New York he created sculptures with musical and nautical themes. In California the Spanish missions become incorporated in his work, the image of the bell ringers was a reoccurring theme. Though his subjects varied his style remained quite consistent, in ceramics, wood, bronze, paintings and watercolor. Some of his most important works are carved wood reliefs, polychromed, and inlaid with carved ivory details. It is known that he did paint some traditional paintings of scenes boats and harbors.

Fulop moved to New York in 1920 and then came to Los Angeles in the 1930s. He opened a school of decorative arts in his L.A. studio. While living in Los Angeles he maintained a studio in Paris and spent time on the East Coast.

Fulop exhibited in New York in 1921 at the Whitney Studio Club. He exhibited in the Babcock Galleries in New York City around 1930, in the Stendahl Galleries in Los Angeles in 1930. He also exhibited at the Doll and Richards Galleries in Boston. He participated in group exhibition at the Grand Central Galleries in New York. In California he exhibited at the Pacific International Exposition in San Diego in 1935, the Golden Gate International Exposition: Treasure Island in San Francisco in 1939. He was included in the Los Angeles County Museum of Art exhibition of 1980, "Painting and Sculpture in Los Angeles: 1900-1945."

Fulop also gained fame for the murals he designed for the Philadelphia Public Library.

Fulop won an award at the New York World's Fair in 1939, the Mr. and Mrs. Irving T. Snyder Prize at the San Diego Museum, and a First Prize in 1937 and the Los Angeles Museum of Art.

Fulop is represented at the Los Angeles County Museum of Art, the Fine Arts Gallery in San Diego, the Palace of the Legion of Honor in San Francisco and the Cleveland Museum of Art.

It is interesting to note that he is virtually unknown in Hungary, and in Paris, where he worked and some of his pieces still surface very little is known of him.

Fulop died in Los Angeles on April 7th, 1963.
---