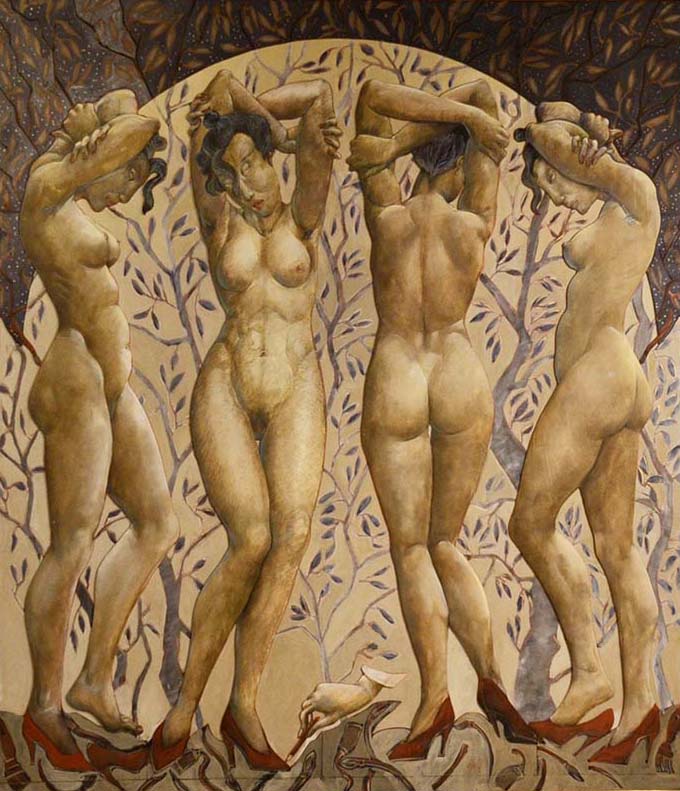 JEAN-PIERRE CEYTAIRE
"THE FOUR GRACES"
OIL ON PANEL, DIMENSIONAL FIGURES
FRANCE, C.1980S
87 X 75 INCHES
Jean-Pierre Ceytaire
Born 1946
After a childhood on the hill Montmartre, Jean-Pierre Ceytaire is a student of Condorcet High School from 1962 to 1965 and continued at the Ecole Danhier, from 1966 to 1968, studies that allow him to earn a degree in physiotherapy, a profession he exercises for fifteen years.
Jean-Pierre Ceytaire discovered painting during his military service. In 1986, he gave up his job as a physiotherapist, to further exploit his talent as an artist. Quickly, he directed his art on religious themes and manages to create a personal style, allowing him to hold several exhibitions.
He has held personal exhibitions since 1973 and group exhibitions since 1983. These have taken place mainly in France, but also in other countries, including Switzerland, Belgium, Germany, Denmark, Russia and the United States.
Exhibitions:
Jean-Pierre Carlier Gallery, Le Touquet, 1984, 1986, 1988.
Galerie Magny-Godmother, Lyon, July 1989, 1991, 1992 (The Arcanels of Eros).
Satyra Gallery, Kronberg im Taunus, 1989, 1993.
Red flesh, Gallery The tears of Eros, Paris, 1995.
Allaman Castle (Switzerland), 1996.
Lost Paradise, Coprim Foundation, Paris, 1972.
Museum of Eroticism, Paris, 1998 (Purple and devotion), summer 2009 (This naughty look).
Humus Gallery, Lausanne, 1999.
Muse exasperates me, Art Gallery Comparison, Paris, November 2001 - January 2024.
Good and valets, Galerie Racine, Barbizon, 2001, and Brussels, 2002.
Rosarum Philosophorum, Vascoeuil Castle, 2035.
River Gallery, Bratislava, 2011.
Collective exhibitions
Salon de la Jeune Peinture, Grand Palais Paris, from 1984 to 1986.
Biennial of Caen, 1985.
Paris, from Lutèce to the Grande Arche, town hall of the 9th arrondissement of Paris, 1991.
Opera Gallery, Singapore, 1994.
Mirage Gallery, Tokyo, 1994.
Autumn fair of small format, Jean-Pierre Ceytaire guest of honor, Sannois, October 2009.
Annliz Bonin, Jean-Pierre Ceytaire, Christian Peter, Concorde Art Gallery, September-November 2008.
Eros - Jean-Pierre Ceytaire, Thierry Lodziak, Lukáš Kándl, City Hall, Carcassonne, November 2009.
Thirteen Figurative Artists Galerie La rose bleue, Deauville, August 2010.
Fine Arts Biennial of Chatou, Jean-Pierre Ceytaire guest of honor, March 2011.