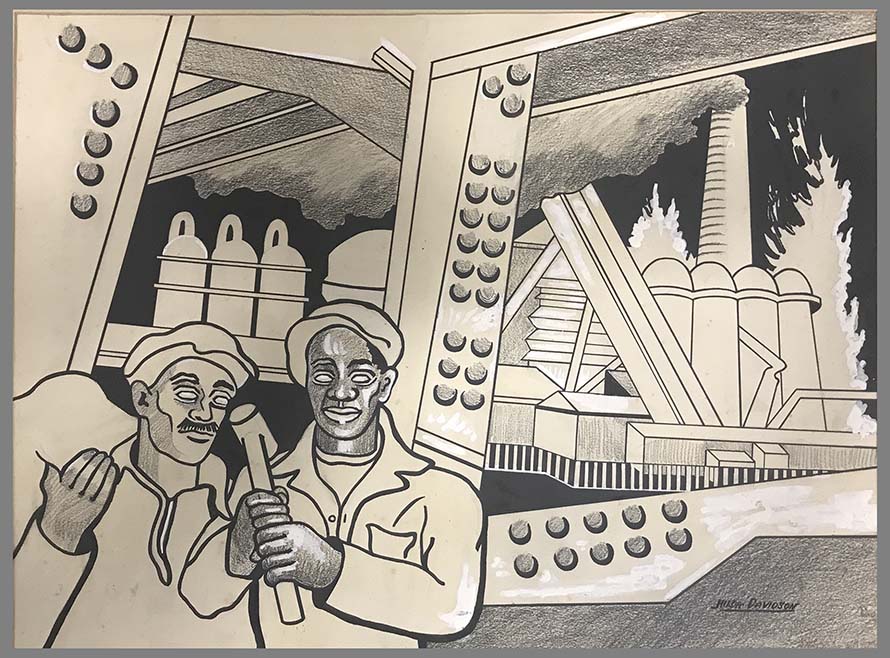 HILDA DAVIDSON KASTER
"UNITY FOR DEFENSE"
GOUACHE AND WATERCOLOR, SIGNED
AMERICAN, C.1939, TILTED
14.5 X 19.5 INCHES
Hilda Davidson Kaster
1912-2008


Hilda Davidson was born in Oakland, California to Russian Jewish immigrant parents. She went to New York in the early 1930s to study art.

At the Traphagen School of Design, she was a student of Moses Soyer and William Gropper, who were founders of the Ashcan School. Later in the 1930s she worked as a commercial artist and designer for I. Miller Shoes.

On her return to California to take care of her ailing mother she began to study with Chinese-American artist Dong Kingman in San Francisco.

She and her husband were blacklisted in the late 1940s for their socialist activities. In 1949 they retreated with their two children to Sebastopol, California, where they were part of a left wing Jewish community of chicken farmers. She continued doing her art.

She was included in a recent important exhibition at the Museum of California Design at the Autry National Center in Los Angeles, titled California Designing Women, 1896-1996.