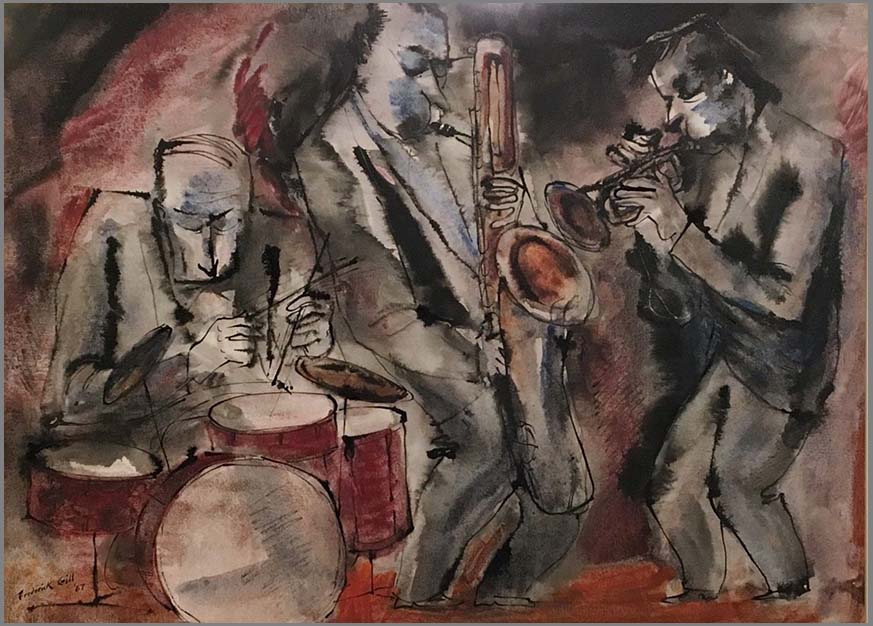 FREDERICK GILL
"COOL JAZZ TRIO"
WATERCOLOR, SIGNED, TITLED
AMERICAN, DATED 1968
PROVENANCE: FISHMAN-WEINER GALLERY PHILADELPHIA
19.5 X 26.75 INCHES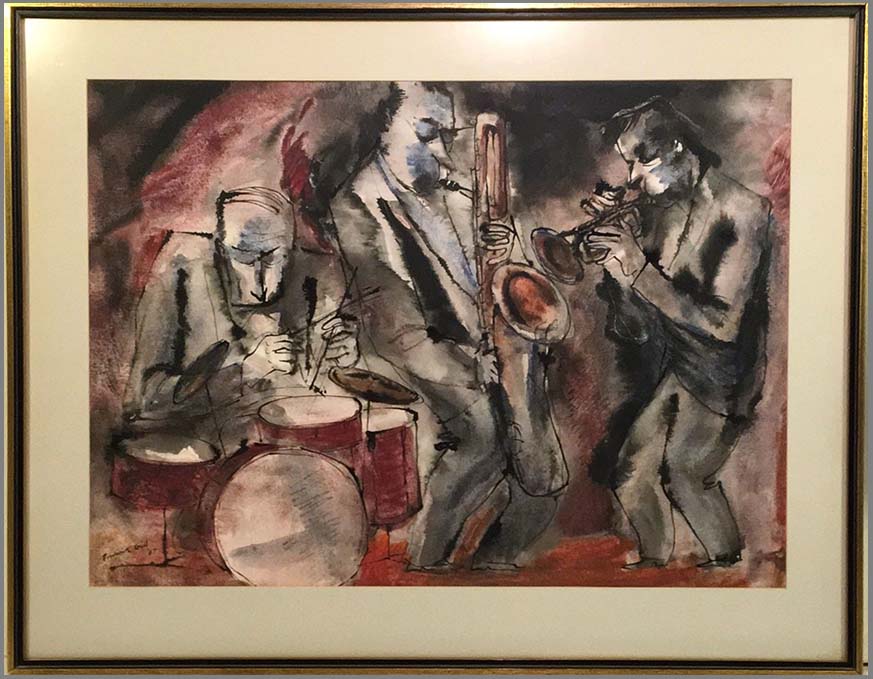 Frederick James Gill
1906-1974
Frederick James Gill was born in May of 1906 in Philadelphia, Pennsylvania. Gill's media includes acrylics and watercolors.
Not only is Gill a painter, having studied at the Pennsylvania Museum School of Art, the University of Pennsylvania and The Tyler School of Art, but he is also an avid jazz saxophonist.

Gill's works were first presented through the Philadelphia Watercolor Club's traveling exhibitions in 1942. Gill's exhibitions went on to include the Metropolitan Museum of Art, American Academy of Arts and Letters, Pennsylvania Academy of the Fine Arts, Butler Art Institute and one-man shows at the Philadelphia Art Alliance.

His works are in many private collections including the Philadelphia Museum of Art, Lehigh University, Temple University, Temple School of Pharmacy and Beaver College.
This strong collegiate bond was evidenced also in his love for teaching, doing so from 1955 until 1974. Most of Gill's paintings were influenced by his love of jazz, from his abstract compositions to his improvisations with flowers, to his theories on landscapes, Frederick Gill was an artist who chose to play it by ear.