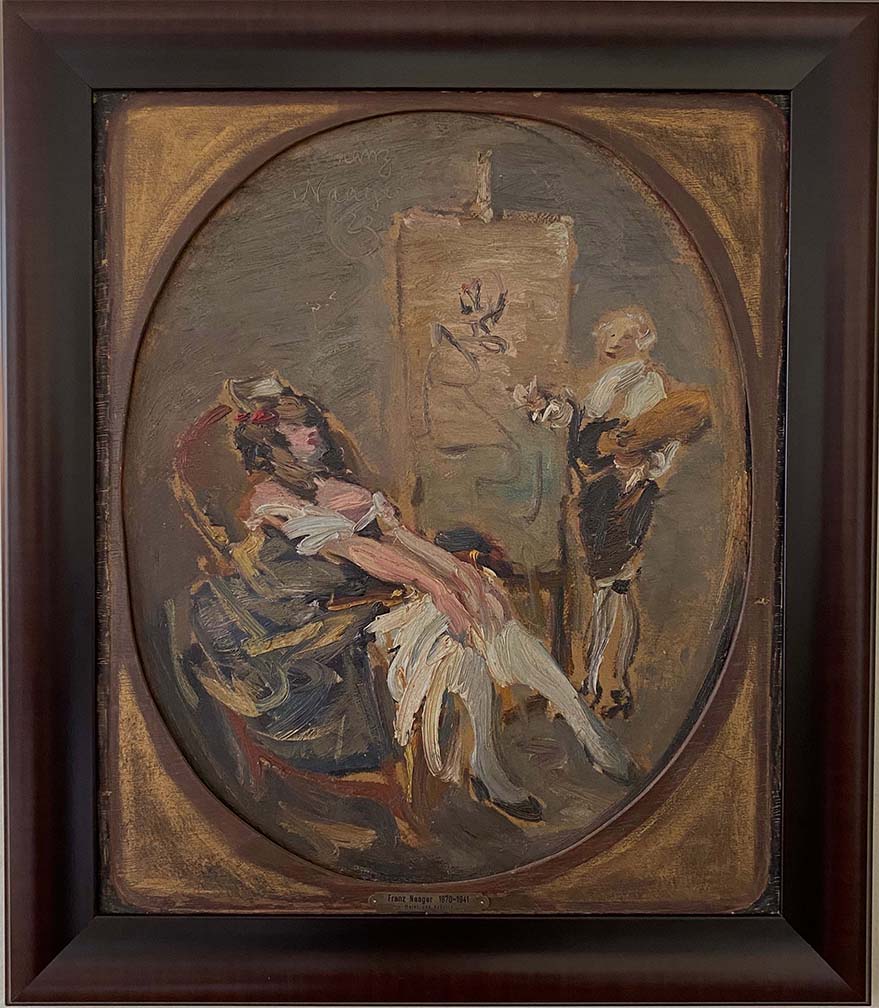 FRANZ NAAGER
"DER MALER UND DIE KOKOTTE"
OIL ON PANEL, SIGNED, TITLED
GERMAN, DATED 1923
20.5 X 17.25 INCHES
Franz Naager
1870-1942
Naager was born in Munich he was a German painter , graphic artist , sculptor , art collector and entrepreneur.
Franz Naager was the son of a Munich prosecutor .
He studied from May 24, 1889 at the Munich Art Academy under Alexander Strähuber , Ferdinand Barth and Gabriel von Hack.
He then spent the years from 1901 to 1913 in Venice , where he worked in addition to his activities as an artist with the purchase of works of art.
In Venice he founded art workshops with about 200 employees. Influenced by the sculptor and craftsman Lorenz Gedon and the architect Gabriel von Seidl , he designed works of art, including marble inlays , mosaicsand sculptural jewelery.
Back in Munich, he bought the house of the former Schack-Galerie (Briennerstraße 19-22) to house his art collections.
Franz Naager also worked as a graphic designer and writer. He was a member of the Munich artists' association "Allotria" .
Naager designed relief slabs of Istrian limestone in 1910 for the main facade of the Berlin Admiral's Palace.
Naager created around 1911 the terracotta friezes on the facades of the residential and commercial building AS Drey (Max-Joseph-Strasse 2 in Munich), manufactured in the Nymphenburger Porzellanmanufaktur .
Franz Naager was elected in 1922 honorary member of the Munich Academy of Arts.