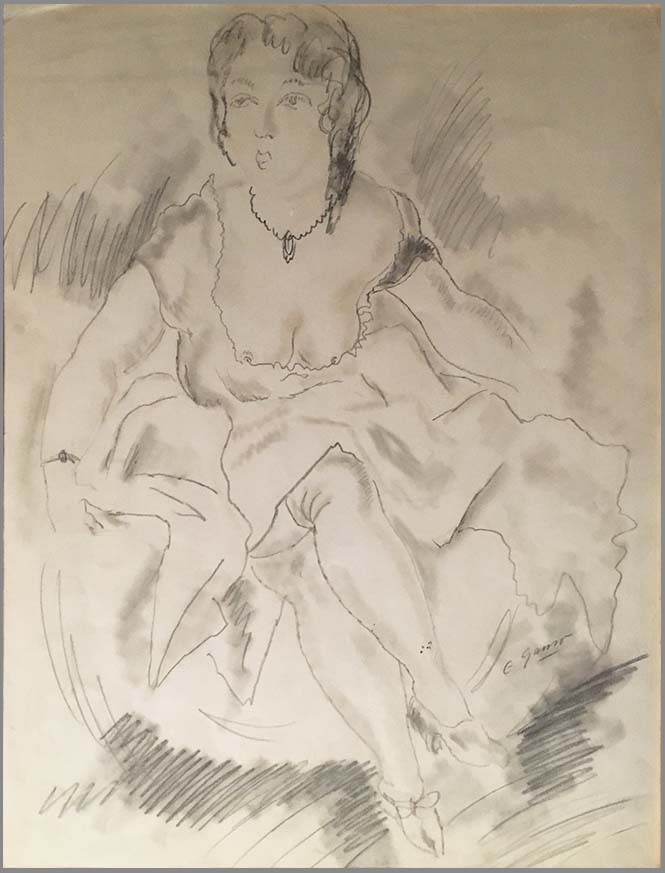 EMIL GANSO
"SEATED NUDE"
CHARCOAL WITH COLOR WASH, SIGNED
AMERICAN, C.1930
21.5 X 15.5 INCHES


Biography from Butler Institute of American Art

Emil Ganso
1885-1941

Ganso was born in Germany in 1895. At age 14, he apprenticed to a baker and then worked his way to America when he was 17. He worked in bakeries in Scranton, Pennsylvania; and Cincinnati and Akron, Ohio. By 1916, Ganso was out of a job, and living the life of a bohemian in New York City, sometimes on less than 30 cents a week.

In 1921, Ganso painted on a realistic nude on a bedsheet and was forced by the police to remove it from an exhibition. The bedsheet with the painting was later stolen. He soon had a job baking again at $140 a month, and with time to spare for painting and study. Ganso quit baking in 1925 when a New York dealer game him financial backing of $50 a week. Ganso has prospered from his art ever since.

His work is in over 15 American museums, and the Print Club of Cleveland awarded him a $500 purchase prize for a wood engraving. A versatile artist, he paints a variety of subjects.

Source: from a profile written by Clyde Singer)

Museum holdings :
Biblioteque National Paris; Boston Museum of Fine Arts; Brooklyn Museum; Cleveland Museum of Art; Kupferstich Cabinet in Berlin; Library of Congress; Metropolitan Museum of Art; Museum of Modern Art; New York Public Library; Victoria and Albert Museum in London; Whitney Museum of American Art.

Exhibitions : (one-man)
Weyhe Gallery 1926 - 1946; Washington Irving Gallery 1960; Retrospective at the Whitney 1941; Retrospective at the Brooklyn Museum 1944; William Benton Museum of Art at the University of Connecticut in1976.