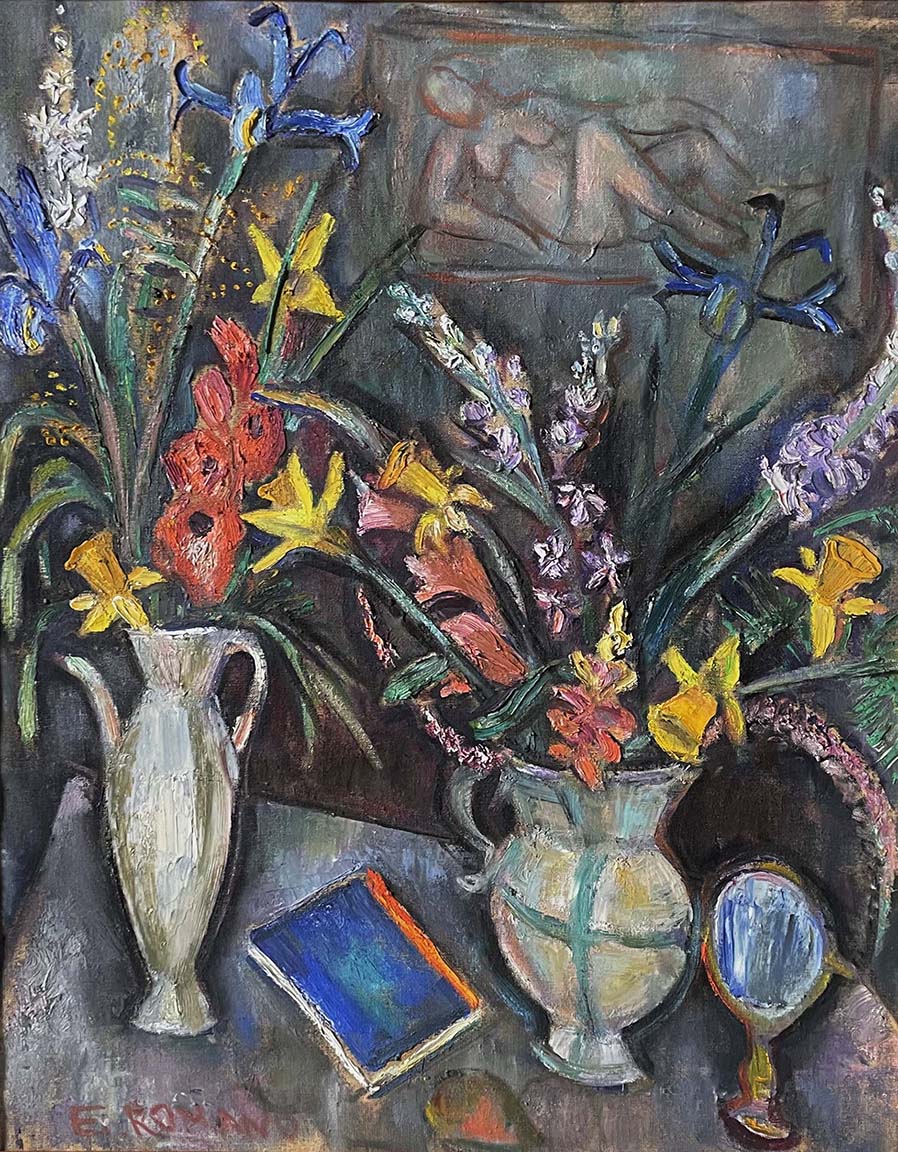 EMANUEL ROMANO
"STILL LIFE WITH FLOWERS"
OIL ON CANVAS, SIGNED
AMERICAN, C.1950
36 X 28 INCHES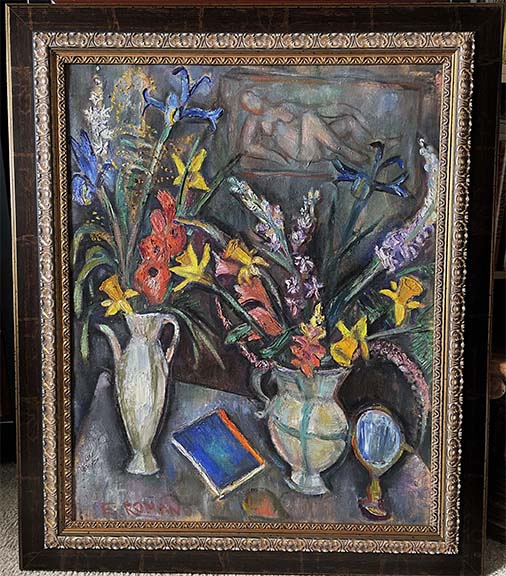 Emanuel Glicen Romano
1897-1984
Born in Rome, Italy, Emanuel Romano became a painter, illustrator, muralist and teacher in New York City where from 1944 to 1945 he taught at the City College of New York.
In 1936 Romano worked designing and painting murals for the WPA, one of his murals is in the Klondike Building, Welfare Island, New York, another of these works is in the Florida Holocaust Museum in St. Petersburg Florida.

He studied in Switzerland and exhibited at the Pennsylvania Academy of Fine Arts and in 1940 at the Art Institute of Chicago.
He moved to Safed in Israel in 1953 to set up a museum in his father's memory.

Museum Collections: Boston Museum of Fine Art; Detroit Museum; New London Museum; Fogg Museum of Art; Musees Natioaux De France.

Exhibitions: 1909- Munich- Drawings;1920- Rome- Bragalia- paintings;1930-
New York- Murai Gallery- paintings;1931- Boston- Goodman-Walker Galleries-
paintings; 1932- New York- S.P.R. Galleries- paintings;1940- New York- Marie
Sterner Galleries- paintings;1942- New York- Lilienfeld Galleries-
paintings;1932- New York- Feigl Gallery- paintings;1932- New York- Chinese
Gallery- paintings; 1947- New York- Cambridge Galleries- paintings;1951- New
York- Pasaeddoit Gallery- Paintings;1955- Paris- Katia Granoff Gallery-
paintings;1961- New York- Rothschild Gallery- paintings;1965- New York- City
College- drawings & watercolors;1968- New York- Gotham Book Gallery-
portraits;1969- Vestart Gallery- paintings;1976- Tel Aviv- Lim Galleries-
paintings.

He also exhibited at: The Whitney Museum; The Society of Independent Artists; Pennsylvania Academy of Fine Arts; The Art Institute of Chicago.