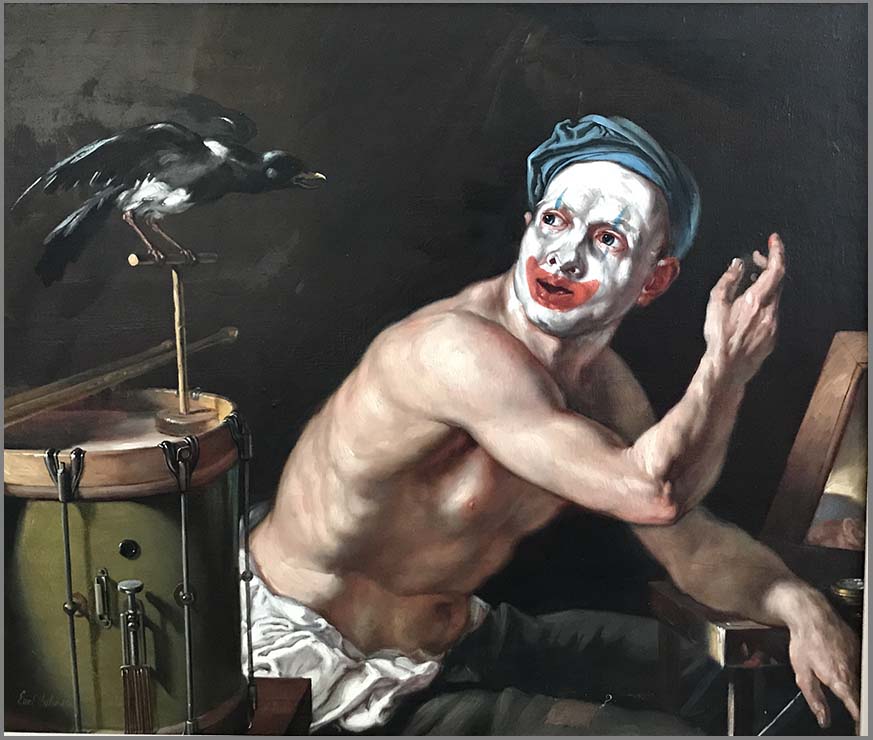 EARL HOFMANN
"CARNY MAN"
OIL ON CANVAS, SIGNED, TITLED
AMERICAN, C.1950
24 X 30 INCHES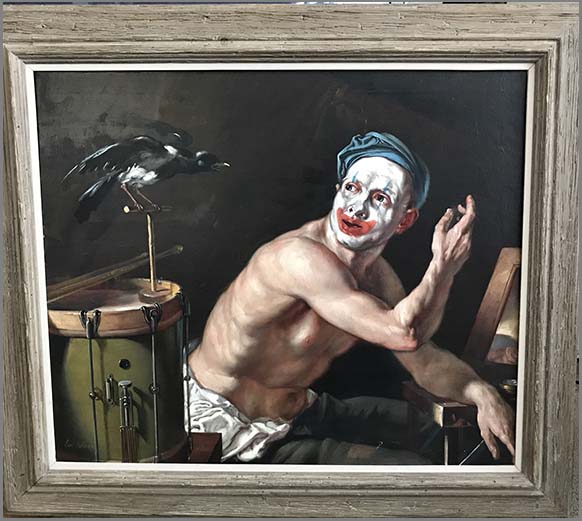 Earl Hofmann
1928-1992
Earl Hofmann was born in Baltimore and was a graduate of Forest Park High School and served in the Marine Corps in the late 1940s.

Interested in drawing since grade school, he did commercial art while in the Marines and then began studying painting at the Maryland Institute under Jacques Maroger, whom he later assisted in anatomy classes. He also attended Loyola College.
Early in his career, he studied with Reginald Marsh and accompanied him on many sketching trips in New York City, hence his early realistic paintings of New York cityscapes. He did many urban land and cityscapes and was devoted to the depicting the stark realism of urban renewal. He belonged to the "Baltimore Realists School."

In 1951, while still a student at the Institute, he began exhibiting pictures at the Grand Central Galleries in New York, where he won several prizes and was named a life member.

His works are on display at several major museums, including the Butler Museum of American Art in Youngstown, Ohio, and the Peale Museum, where he won first prize in the 1958 Life in Baltimore Show.

He also created paintings or murals for a number of buildings, including St. Ignatius Church, St. Joseph's Monastery Church and Mercy Medical Center, which has a painting of his variously known as the Madonna of Baltimore or Our Lady of Baltimore.

In addition, he did a portrait of Cardinal Lawrence J. Shehan, begun just before he became a cardinal in 1965.

In 1965, he was named director of art and design for a new Baltimore office of Thomas J. Gibbons Inc., a church-decorating firm.

He also taught at Boys' Latin School and in adult evening classes at the Towson and Catonsville high schools.

His works were also exhibited in two consecutive Corcoran Gallery of Art biennial shows and were included in the Guggenheim Traveling Exhibit that toured the country.

His works were also exhibited at the old Hilltop Theatre School of Art Gallery in Baltimore and in galleries and museums in New York City; Columbus, Ga.; Sarasota, Fla.; Ogunquit, Maine; Miami Beach, Fla.; and other communities as well as in several additional galleries in New York and in the Washington area.

He was a fellow of the International Institute of Arts and Letters.
At St. Aloysius Church, he not only provided art but also sang and played the guitar with the folk music group.