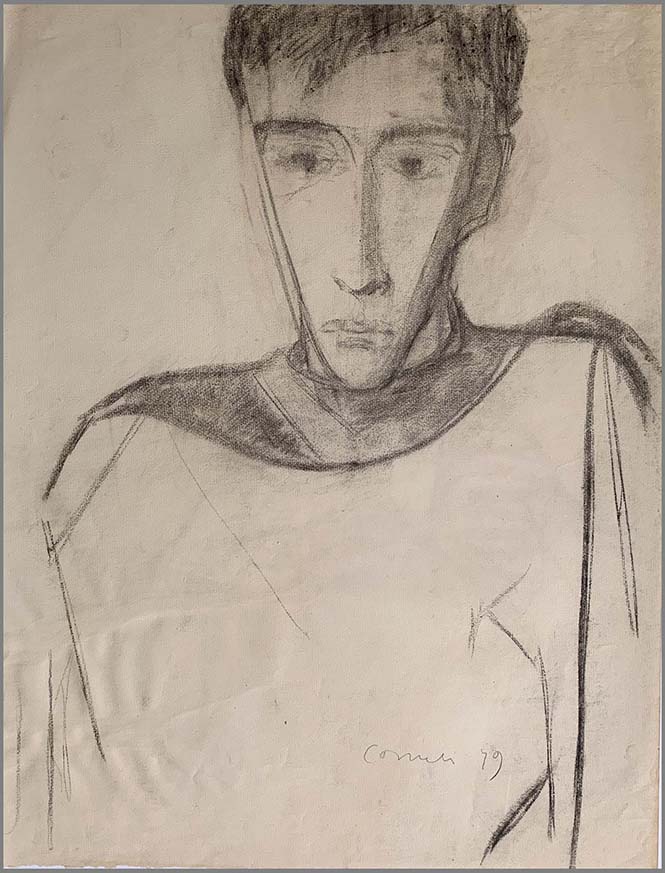 CORNELIS RUHTENBERG
"PORTRAIT 2"
DRAWING, SIGNED
LATVIAN, WORKED IN BERLIN, DATED 1949
25 X 19 INCHES
Cornelis Ruhtenberg
1923-2008
Cornelis Ruhtenberg was born in 1923 in Riga, Latvia

Ruhtenberg studied at the Hochschule für Bildende Kunst in Berlin from 1941 until 1946 and two years later immigrated to the United States. Ruhtenberg is primarily a painter of figures, but she explores neither psychological insight nor the appearance of her subjects. Virginia M. Mecklenburg Modern American Realism: The Sara Roby Foundation Collection (Washington, D.C.: Smithsonian Institution Press for the National Museum of American Art, 1987)
Exhibitions:
Museum of Modern Art 1955, 1956, 1962
Metropolitan Museum of Art
National Academy of Design
Chicago Art Institute
Pennsylvania Academy
Numerous exhibitions in Berlin 1946-1949
One-man exhibition:
Denver art Museum
Fort Worth Art Center and Everhart Museum in Scranton, PA.
Museum Holdings:
Smithsonian American Art Museum
The Berlin Museum
Palm Springs Art Center
Springfield Art Museum
Hirshhorn Museum
Kirkland Museum of Fine and Decorative Art
Des Moines Art Center
Everhart Museum
Denver Art Museum
Easthampton Guild Hall's Museum
Colorado Springs Fine Arts Center