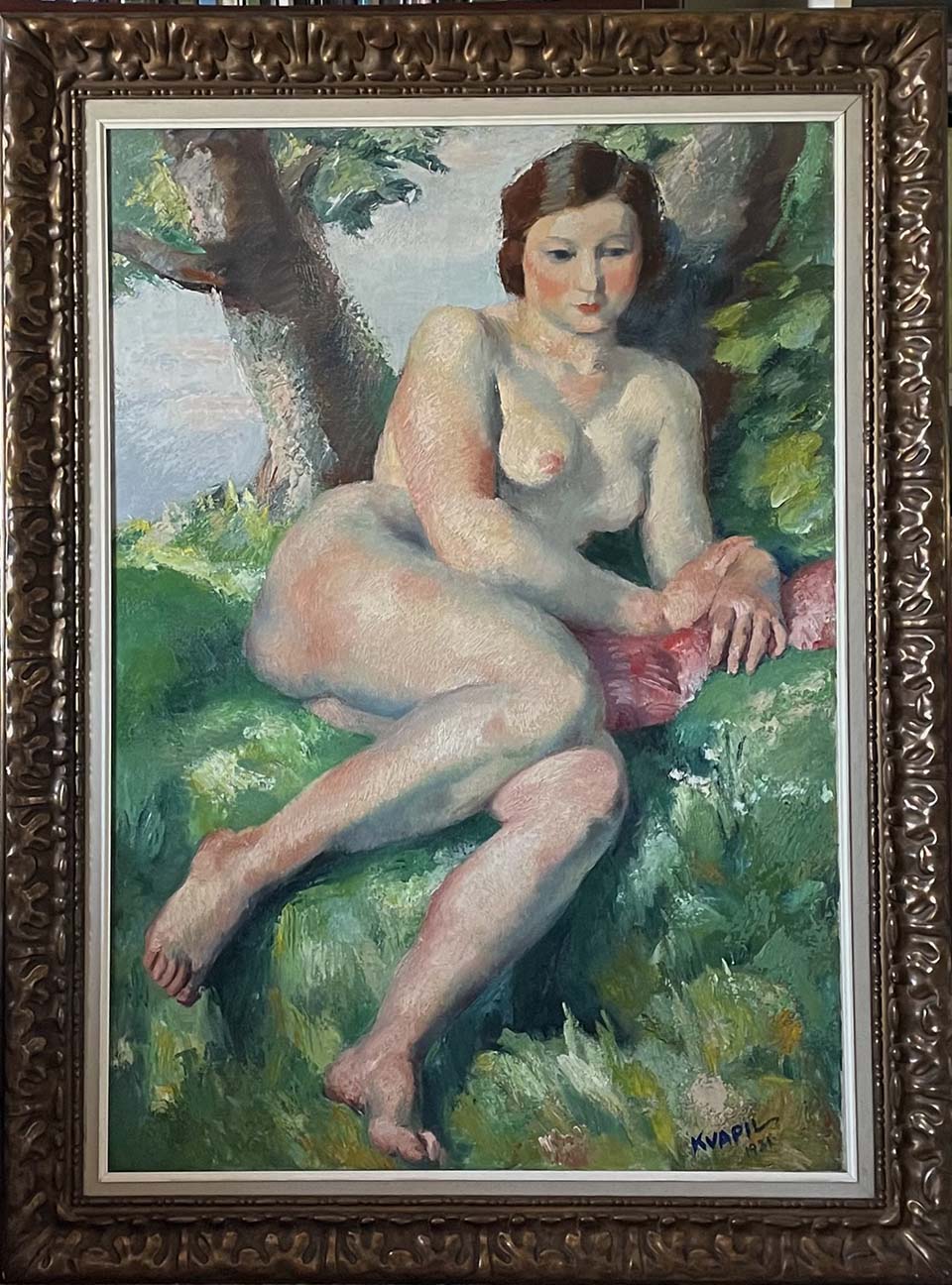 CHARLES KVAPIL
"NU"
OIL ON CANVAS, SIGNED, TITLED
BELGIAN, DATED 1932
46 X 32 INCHES
FRAMED 55.5 X 41 INCHES
Charles Kvapil
1884-1957

Charles Kvapil was born in 1884 in Anvers, Belgium.

Kvapil exhibited his first work in Anvers in 1908 at the Salon d'Anvers. In 1911 he exhibited in Munich, where his works showed an influence of Cubism. In 1914 he exhibited at the Triennale de Bruxelles. He was mobilized into the army in World War One.

After the war he attended l'Académie des Beaux-Arts in Anvers. He began to exhibit in Paris in1920 at the Salon des Indépendants.

He moved into a studio in Montmartre where he lived for many years. He painted his models in the studio, occasionally in front of his window with the hills of Montmartre in the background. He also painted in the countryside like the Impressionists, often working with groups of nudes. He had many exhibitions throughout the 1920's and 1930's in Paris.

Kvapil's paintings are bold and modern, his nudes and his flowers are strong and powerful. His palette is often rich in cobalt blues and other fauvist colors; his brush technique is deliberate, and powerful. Some influence of Courbet and Manet can be seen in the posing and composition of his images.

He exhibited in his lifetime in Paris, Munich, Brussels, Geneva, Italy, Stockholm, London and New York. He died in Paris in 1957.

His works are held in the Musée d'Art Moderne de al Ville Paris, and the Musée des Beaux-Arts in Amsterdam, and museums in Le Havre, Rouen, Luxembourg, Saint-Etienne and Tunisia.