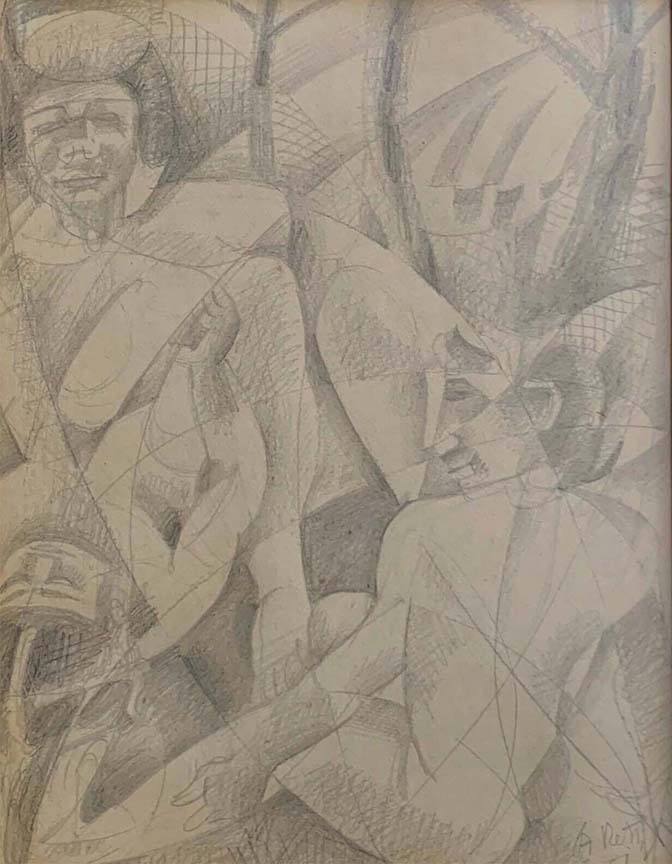 ALFRED RETH
"AFRICANS"
DRAWING, SIGNED
HUNGARIAN, WORKED IN PARIS, DATED 1951
12 X 9 INCHES
Alfred Reth
1884-1966

Alfred Reth was born on February 29, 1884 in Budapest.
He first traveled to Paris in 1903 and then throughout Italy. Reth attended Academy of Fine arts in Florence and later the Academy of Fine arts in Budapest upon return to Hungary.

Influenced greatly by such as artists working in France as Paul Cézanne, Paul Gauguin and Roualt Reth moved to Montparnasse permanently in 1905. He attended several schools and academies in Paris while continuing to exhibit his work in Budapest. He eventually exhibited at the Salon d' Automne alongside Matisse and Roualt. Reth subsequently joined the Société des Artistes Indépendants in 1911 and continued to exhibit in the Annual Salon des Indépendents until 1914, playing an active role in the Cubist movement during this time.

After being imprisoned for several years during the War due to his nationality Reth started experimenting with line and color as means of a more pure abstraction in his work. He continued to exhibit prolifically in Paris, exploring different materials and their relationships to nature. He continued to face adversity in Paris during wartime years but was able to maintain a committed and passionate career throughout.

Alfred Reth died in his Montparnasse studio on September 15 1966.