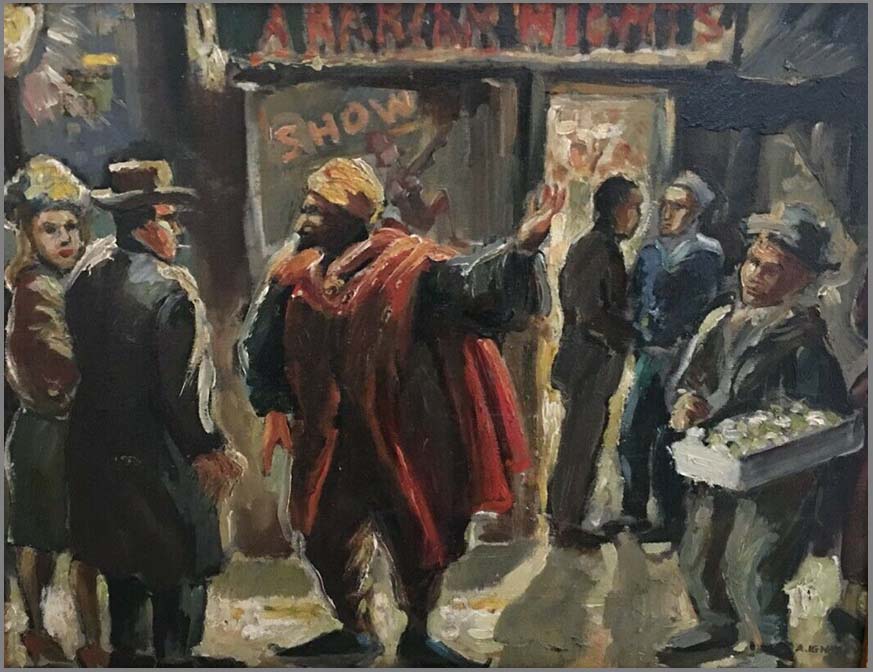 ALEXANDER IGNATIEV
"OLD BAR, MONTGOMERY AND BROADWAY, SAN FRANCISCO"
OIL ON PANEL, SIGNED, TITLED
RUSSIAN-AMERICAN, DATED 1942
16 X 20 INCHES
Alexander Ignatiev
1913-1995
Ignatiev was born in Russia in 1913, we went by the name Alex Ignatiev.
He studied at Chouinard Art Institute in Los Angeles.
Ignatiev grew up in San Francisco and in the 1930s received a scholarship to study with Millard Sheets, Phil Paradise and Lawrence Murphy.
He was a member of the Valley Artist Club.

His watercolors and paintings are typical American Scene works of his age.
In addition, he produced murals and animated film art for a number of Hollywood studios including Walt Disney, Warner Brothers and Hanna-Barbera.
He has a large filmography, he worked on more than 40 films from 1940-1981.