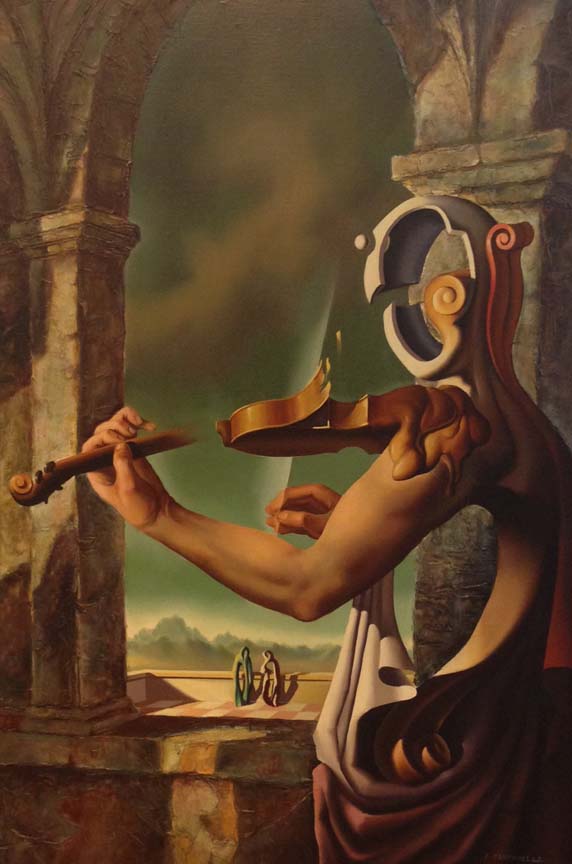 VITO CAMPANELLA
"HOMAGE A JASCHA HEIFETZ"
OIL ON CANVAS, SIGNED, TITLED
ARGENTINA, DATED 1971
34.5 X 22.5 INCHES
Vito Campanella
1932 -

Vito Campanella is an Argentine painter of Italian origin born in Monopoli, Bari on October 17, 1932.
Before establishing himself in Buenos Aires in 1955, Campanella studied at the Academy of Fine Arts Brera in Milan and in cultural centers of important European artists.
Campanella has had numerous solo and group exhibitions and his works are shown in major museums and private collections such as: Athens Museum of Fine Arts, The Uffizi Gallery of Florence, Tel Aviv Museum of Modern Art, Johannesburg Museum of Modern Art, Mar del Plata Museum of Fine Arts, and Parana Museum of Fine Arts among others.
He is an honorary member of the International Arts Guild and an active member of the Cetnre de Liasion des Artistes Peintres de France. In 2007, Campanella received the Order of Merit as Commander bestowed by the Italian Republic and nominated Painter of the Year by the Buenos Aires Borgesean Association's Proa Magazine.